THE ROTARY GSE TEAM
I was over the moon when I got selected to be part of the GSE (Group Study Exchange) team representing Rotary District 3210 going to Rotary District 1400 (the Northern part of Finland). The selection held at Tuticorin, the hometown of the Rotary district Governor Joe Villavarayar, was a grueling process and my own interview took 45 minutes (my husband who was waiting in the corridors kept count.)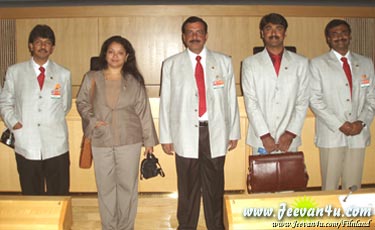 ROTARY GSE(Group Study Exchange) TEAM


The team that got selected included yours truly, Selva Ganesh IRS, a deputy tax commissioner posted at Madurai, Senthil Kannan, a businessman from Tuticorin and Karthik Narayanan, an ad guy from Kollam. Our Rotarian Team Leader was Mr. A S Ramasamy aka Ramesh who is an exporter based in Tuticorin.

For more details on the Rotary GSE (Group Study Exchange) Programme
go to www.rotary.org/foundation/educational/gse/index.html.