Eiffel Tower, Paris
Home »» Travel »» Paris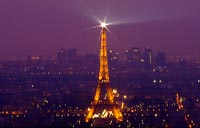 The Eiffel Tower, one the most exquisite creations of human brilliance, is located on the Champ de Mars in Paris. This icon of the city of Paris has dominated the French Capital skyline since it came into existence in 1889 and ever since it remains to be a tangible specimen of human aesthetic and artistic powers in the world. This amazingly gorgeous structure of Paris is visited by people in galore every day. The tower was designed by Gustavo Eiffel and was built as the entrance arch to the 1889 World's Fair. This "towering personality" is 1,063 feet tall. Enjoy a memorable night out in Paris by combining a travel visit to the Eiffel Tower.
The Eiffel Tower will definitely bless you with experiences and memories to cherish for eternity. The tower has three levels. Visitors can ascend the first and second levels either by stairs or lift. There are 300 steps in each of the first two levels. The first and second levels feature restaurants. The third level, the highest level, is accessible only by elevator. An enamoring and exciting view of the Paris Panorama can be found from the third level. There are many famous luxury and cheap hotels near Eiffel Tower in Paris France.
The Eiffel Tower is the most well known monuments in the world visited by more than 5 million people each year. A tour visit to the Effel Tower will undoubtedly bless us with reminiscences to treasure for infinity. It is indeed a marvelous creation of human aesthetics and intelligence. Ages may pass but this marvelous icon beauty and splendor will continue to enchant and enamour human artistic sense.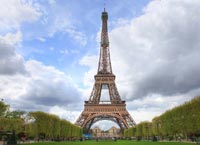 If you are thinking about taking a vacation travel, then visit the Paris Eiffel Tower. You have to first collect the tickets before starting your tour to Eiffel Monument Tower. On arrival, you will be flabbergasted by the stunning beauty of the Eiffel tower. In the evening when the lights are turned on, the monument tower appears to be a shining star illuminating the whole world. The sightseeing from Paris Eiffel Tower would be a perpetual inspiration. It is indeed an ideal place to spend your holidays. It provides ample opportunities to get rid of the monotony of human existence. Variety of activities offered at the Eiffel tower like film shows, exhibitions, ice skating, roller skating so on and so forth will synergies and enliven our lives... So go for Paris travel and check out this wonderful exhibit of the sheer power and intensity of this tower. Can you imagine a more romantic way to experience Paris? Allow you to be charmed by the unique beauty of the Eiffel Tower and treat yourself to an unforgettable travel experience in Paris.
Eiffel Tower Photo Gallery