RHCE Exam Dates
January 2009
7, 8, 9 (EX 429), 28 (EX 333), 29, 30 (EX 423)
February 2009
11,12,13,25.26,27
March 2009
11,12,13,25,26,27
ipsr solutions ltd.
ipsr solutions ltd. is a provider of total IT solutions based at Kottayam, Kerala, India. The company promoted by members of Kerala Vyapari Vyavasayi Ekopana Samithy (K.V.V.E.S) mainly concentrates on internet based applications, customized software solutions, technical consultancy and has activities in the whole spectrum of Information Technology providing quality services. ipsr solutions ltd., started in the year 2000, is having a regional office at Kozhikode (Calicut) & a branch at Cochin and is now doing offshore outsourcing & also high-end overseas projects.
The company is now having more than fifty members and an infrastructure asset of more than 80 computer machines incorporated in main networks. IPSR[Institute of Professional Studies & Research] is situated in an area spanning 8000 sq.ft with well-equipped cyber classrooms, a well-stocked library, learning resources and seminar halls providing high quality education and IT training. IPSR also offer a high range of hardware and networking solutions. IPSR is having best institutional tie-ups with several professional campuses across Kerala.
IPSR offers projects, (mainly Live Application Programming (LAP) projects in various fields like multi-level marketing administration, banking & education software projects, internet related projects etc.) in the programming languages like J2EE, Servlets, Visual Basic, ASP.net, VB.net (SQL Server backend) for students of MCA, BTech, BE, BSc Computer Science/Electronics etc.
Dr. Mendus Jacob

M.D. & CEO ipsr solutions ltd.

Director MCA, Marian College Kuttikkanam
IPSR delivers high-end software training in Enterprise Java (in Windows and Linux platforms), .NET technologies and C & C++ in Linux platform. IPSR also offer International Certification Programmes like RHCE (Red Hat Certified Engineer), RHCT (Red Hat Certified Technician), CCNA (CISCO Certified Network Associate), MCP (Microsoft Certified Professional) etc. For assuring placements to meritorious software students, IPSR have a well-equipped placement division that constantly monitors the placement and job opportunities for IT students.
IPSR is now the leading website developers & designers in Kerala and provide a host of web enabled applications services as well. IPSR also provide Domain Name Registrations with ICANN accredited registrars directly or with their authorised partners. The ipsr solutions have a heard of web application designers, developers, programmers who are having expertise and experience in the field for years. The Web Designing Environment at IPSR comprise of Macromedia Dreamweaver MX 2004, Macromedia Flash MX 2004, Macromedia Fireworks MX 2004, Adobe Photoshop 8.0, Adobe Illustrator 10 etc. The multimedia presentation suite at IPSR includes Adobe Photoshop CS, Adobe Illustrator CS, Adobe PageMaker 7.0, Macromedia Flash MX 2004, 3D Studio Max, Adobe Premiere, QuickTime Pro, Sound Forge, and Macromedia Director MX 2004 etc.
ipsr penguin planet, a division of ipsr solutions ltd. now operating from Kottayam, Ernakulam and Kozhikode is a total Linux training and research hub dedicated for International Certification Programmes in Linux, advanced projects in Linux for B.Techs, M.Techs and MCAs; Linux based Corporate Consultancy etc. ipsr solutions ltd., the authorized training partners of Red Hat is offering various programmes like RHCE RHCT etc and is also offering advanced projects in Linux in topics like LTSP Setup, High availability/High performance cluster implementation in RHEL V3 etc.
IPSR has been setting up Independent Red Hat competency cum Open Source Research Centers & Campus availing Linux Training at Marian College Peerumedu Kuttikkanam, Mount Zion College of Engineering Kadamanitta pathanamthitta, Amal Jyothi College of Engineering Koovappally Kanjirapally, DePaul Computer Academy Kalamaserry, SH College Ernakulam, AWH Calicut, MES Kuttipuram, Nirmala Academy Muvattupuzha, St Alberts Cochin, KMCT College of Engineering, St Gits College of Engineering Kottayam, SNGIST Ernakulam.
At IPSR, the strength of software professional is measured in terms of his/her ability to investigate, analyse, design, implement and maintain that counts at the larger scale. The more you are well versed, the more your rank will be starting from programmer and going through phases like senior programmer, system analyst, Team leader and ultimately leading to Project leader/manager and even to higher posts. As per the present trends, IPSR is becoming a target for multinational and transnational companies (MNC) for outsourcing their IT requirements.
My Life @ IPSR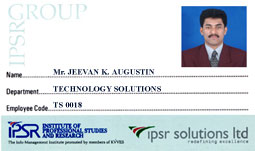 I joined ipsr solutions ltd on June-2003 as a Software Engineer after completing my MCA. Here I could gain a lot of real time experiences, thus evolve myself as true software professional. I would like to thank all my superiors who gave me an opportunity to step in to this great career. I express my thanks and gratitude to Dr. Mendus Jacob, Director & CEO ipsr Group, who gave me an opportunity to work in this reputed firm. I also express my sincere thanks to my Team leader Mr.Shiju Alex who offered me unlimited help and encouragement in developing this website. I also express my sincere thanks to and all the team leaders at IPSR, especially Manager, Marketing, Mr. Rajeev Vasu; DGM, Mr. N. Jayakrishnan; Director IT Services, Mr. Sujith M.; Manager, Mr. Radesh Menon; Course Director, Mrs. Benila Mendus; Hardware Manager, Mr. Robin Joseph; Network Administrator, Ms. Deepa Shekar, Assistant Marketing Manager, Mr. Dilip Jacob Ponnattu; and to all my colleagues at ipsr, who have inspired me in developing a site like this...I also acknowledge the help rendered by the Mr. M.T Cherian, Mr. Genius K. Narayanan, Mr. Abhilash.K.K, Mr. Dileep, Mr.Pradeep, Mr. Shibu.K.C, Mr. Renjith S. and Mr. Krishnaraj who have helped me in my earlier days of my career to understand and learn a great many new things…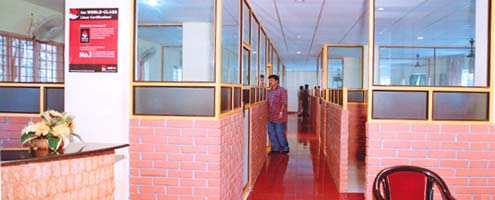 | | |
| --- | --- |
| | My Friends @ ipsr |
Mr. Krishnaraj

Mr. Sreekanth A K

Mr. Anoop R.

Mr. Arun Ravi

Mr. Bibin James

Mr. Bijumon

Mr. Binumon T.K.

Mr. Binu Raj V.

Ms. Bitty Koruth

Ms. Biya Biju

Mr. Byju Emmanual

Mr. Dilip Jacob

Ms. Deepa Sekhar

Ms. Deepa Vincent

Ms. Eimee J.

Mr. Gopa Kumar

Mr. Hari G Nair

Mr. Hojo Clement

Ms. Iren Ninan

Ms. Jenny George

Mr. Jinu Mani

Mr. Joby Jose

Mr. Jose George

Ms. Litha Joseph

Mr. Kalesh Raj

Mr. Lijo Joy

Mr. Linson Antu

Mr. Manoj Alex

Mr. Maurice Robert

Mr. Nibin Sunny

Mr. Prabhu

Mr. Pradeep S.

Mr. Prajith K.P.

Mr. Praveen Ninan

Ms. Priya Sunu Mathew

Mr. Renjith S.

Rajeesh

Mr. Robin Joseph

Mr. Shajan Varghese

Mr. Shibu K.C.

Mr. Shiju Alex

Mr. Shiju Pavithran

Mr. Soji

Mr. Sudheesh K. S.

Mr. Sujith Dominic

Mr. Sunish Kumar

Mr. Suneesh T S

Mr. Vinu Vijayan

Mr. Anuraj P.

Mr. Hashim A.P.

Ms. Roselin

Ms. Besty

Mr. Manoj N S

Mr. Justine Goerge

Mr. Shanjoph

Mr. Bency Ipe

Mr. Binu

Mr. Aji

Mr. Manoj

Mr. Girish

Mr. Johnson

Ms. Dhanya

Institute of Professional Studies & Research [IPSR] Photogallery
ipsr solutions ltd. [www.ipsrsolutions.com]
Kottayam
- Headquarters IPSR
Merchant's Association Building
M.L. Road, Kottayam
Kerala, India - 686 001
Phone: 91-481 - 2561410,
2561420, 2301085
Kochi
- ipsr penguin planet,
Near TDM Hall
Palliam Road, Kochi
Kerala, India - 682 016
Phone: 91-484 - 2366258

Kozhikode
- Regional Office IPSR
North Kerala
IInd Floor, Vyapar Bhavan
Bank Road, Kozhikode
Kerala, India - 673 001
Phone:91-495-2761776, 2768129